Screw-Down Stop Check Valve
The screw-down stop check valve combines the functions of the globe valve and the check valve and is mainly used on marine vessels.
The valve body and the valve stem are not connected. Normally used as a lift check valve, this valve can be sealed when necessary by loading with the stem, as the globe valve.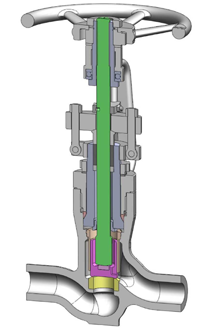 Specifications
We use different materials for the valve casing according to the nominal diameter:
- 65 mm and above・・・Cast steel
- 50 mm and below・・・Forged steel
Name
Screw-Down Stop Check Valve
Body Material
ASTM, ASME, JIS,
Cast Steel / Forged Steel

Carbon Steel,
1Cr0.5Mo Steel,
2.5Cr1Mo Steel,
Stainless Steel,
9Cr1Mo-V Steel,
etc.
Fluid
Water, Steam, Gas, Oil, etc.
Pressure Class,
Size(Standardized)
Class 150 - 2500 : - 400 mm
Class 3500 - 4500 : - 150 mm
Connection Form
Socket weld, butt weld, flanged*
Operation Method
Manual (including the type with a manual reduction gear), electric
*For valves with flanged connection, indicate the surface shape (raised face, flat face, etc.) for each flange standard (ASME, JIS, etc.)
• The above specifications are for standard products.
Please inquire for other specifications..