Drain Valve
The drain valve is subject to severe erosion due to the combined effect of drain discharge under high differential pressure at plant startup and the spouting of oxidized scale inside the piping.
Although drain valves have a short operating life due to their severe usage conditions, we offer a selection of drain valves with enhanced erosion resistance in an effort to increase their operating life.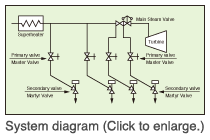 <Basic concept of our drain valves>
We recommend using two structurally different valves--the master valve (primary valve) and the slave valve (secondary valve)--as a pair, the former for full closure and the latter for regulating drain discharge.
The features of the full-flow-type drain valve, recommended for usage as a master/slave valve (mainly on the main steam system drain lines, which are subjected to the severest conditions), and the SCS (separate changed seat) type are outlined below.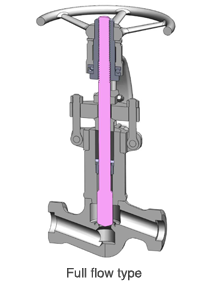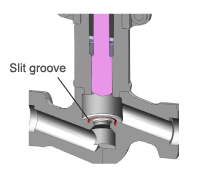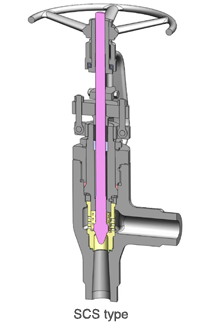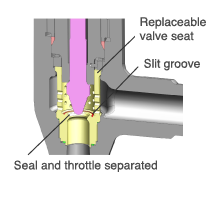 Features
1. Full flow type
A spherical drain valve for on-off usage recommended to be used as a master valve (primary valve) for the purpose of providing full closure.
These valves offer the following features that take account of extreme temperature changes, which are inevitable given their operating environment, as well as erosion resistance.
• Lower end of disc does not remain within the flow passage when the valve is opened.
• There is ample space at the inlet/outlet sides of the throttle part to prevent deviation of flow.
• A slit groove is provided around the valve seat to prevent cracking due to thermal shock ceased by rapid changes in temperature.
2. SCS type
An angle needle drain valve recommended for use as a slave valve (secondary valve) for regulating drain discharge.
Slave valves are used in an intermediate opened to regulate the flow rate, and it is even more difficult to avoid damage from erosion to these valves than to avoid such damage to master valves. For this reason, these valves have various special features, including a replaceable valve seat.
• A reverse flow angle valve structure is adopted to prevent erosion of the valve seat seal and the inner wall of the valve that results from the collision of high-speed jet flow against the valve casing and disc past the valve seat throttle, as well as cavitation and flushing.
• The seal part and throttle part are separated so that the sealing function can be secured even if the seal part is damaged.
• A slit groove is provided around the valve seat to prevent cracking due to rapid changes in temperature.
• A valve seat can be replaced when eroded.
When inquiring / Inquiries
Please inform us of the following when inquiring or placing an order:
• Usage conditions
1. Design pressure/temperature
2. Inside/outside diameter and material of the piping
3. Globe or angle, and operation method
4. Frequency of use per year
5. Range of controlled flow rate of the discharge drain and discharge pressure
• When replacing valves, please provide information on any usage problems experienced in the past in as much detail as possible..
Brochure Download