Globe Valve
Globe valves, so named for their spherical body shape, have an S-shaped fluid passage. Although these valves provide excellent sealing capability, they produce greater fluid resistance compared to gate valves.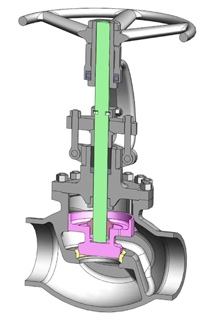 Specifications
We use different materials for the valve body according to the nominal diameter:
- 65 mm and above・・・Cast steel
- 50 mm and below・・・Forged steel
Name
Globe Valve
Body Material
ASTM, ASME, JIS
Cast Steel / Forged Steel

Carbon Steel,
1Cr0.5Mo Steel,
2.5Cr1Mo Steel,
Stainless Steel,
9Cr1Mo-V Steel,
etc.
Fluid
Water, Steam, Gas, Oil, etc.
Pressure Class,
Size(Standardized)
Class 150 - 2500: - 400 mm
Class 3500 - 4500: - 150 mm
Connection Form
Socket weld, butt weld, flanged*
Operation
Method
Manual (including the type with a manual reduction gear), electric, pneumatic (piston, diaphragm)
*For valves with flanged connection, indicate the surface shape (raised face, flat face, etc.) for each flange standard (ASME, JIS, etc.)
• The above specifications are for standard products. Please inquire for other specifications..


In addition to the ordinary globe valves, we also manufacture:
• Angle valve – This valve can change the direction of fluid flow at a right angle.
• Y-globe valve – The valve stem axis and the flow channel at the outlet form an acute angle in this valve.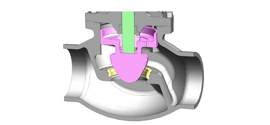 Globe valves need to be structurally modified into needle valves if the flow rate needs to be regulated. We design each valve according to the flow parameters presented. Contact our sales representative for details.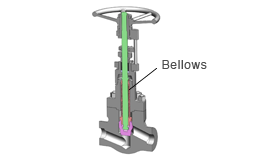 We also manufacture valves with metallic bellows that prevent leakage from gland valve sections.
Both a metal seat type and a soft seat type are available.