Other
We also manufacture various accessories related with valves.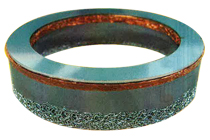 Expanded Graphite Seal Ring
Features
Jointly developed with a sealant manufacturer, the expanded graphite seal ring is a high-performance seal surpassing conventional metal seal rings.
Made of expanded graphite, known for its excellent tracking and adhesive capabilities, this seal ring demonstrates exceptional sealing performance even under drastic pressure and temperature changes due to DSS and WSS operations.
As the shape is compatible with the existing metal seal rings, it can be used without even a need to modify the bonnet.
Usage Range
Maximum pressure class: class 4500
Maximum working pressure: 64.7 MPa (660 kg/cm2)
*Please inquire for any planned usage beyond the working range.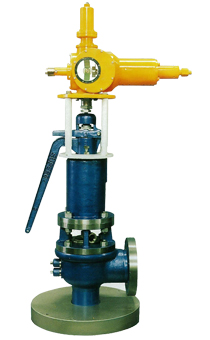 Safety Valve Adapter
The safety valve adapter is a device for preventing leakage by applying valve opening force (safety spring loading plus additional force) to the disc until the safety valve reaches set pressure.
Features
Proven reliability and outstanding effectiveness in increasing power generation efficiency
Although this device is originally designed to be mounted on existing safety valves with leakage to prevent leakage, it can also be used on safety valves without leakage to increase the working pressure, thereby increasing the efficiency of the power generation facility.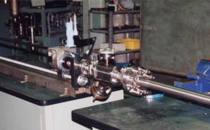 Nozzle Cleaner
This device removes excrescences on the nozzles for raw materials and catalysts of polyethylene plants, etc., enabling continuous operation of the plant.
Features
This device can be operated periodically during plant operation to remove excrescences, enabling continuous operation of the plant.
It will allow the number of spare nozzles to be reduced, helping reduce excess equipment.
The internal pressure seal has a double safety seal structure, leveraging the time-tested expertise of a high-pressure valve manufacturer.
This nozzle cleaner can be remotely operated (using a pneumatic motor) with a control panel. Even in the event of malfunction, plant operation will not be affected as the device is equipped with an auxiliary valve that can be used to cut off the fluid flow, enabling the device to be repaired without stopping the operation of the plant.