Maintenance Services Provided by OKANO VALVE
In accordance with our goal of contributing to society by providing quality products and services throughout the life cycle of valves, we strive to give excellent maintenance service after delivery.

Maintaining system functions and periodic maintenance including overhaul is essential for long term use of our products. We have a long history of providing high quality maintenance services in addition to valve manufacturing, and not only overhaul and maintenance services, but we also have special engineering technology available.
In addition, based on our extensive knowledge gained from long experience in the industry and thorough information gathered from research of our manufacturing records, we would like to provide some appropriate suggestions for cases of emergency.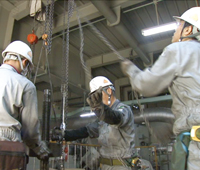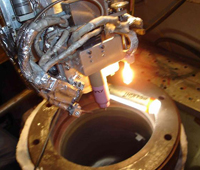 Maintenances for various troubles
We have special maintenance technology for various kinds of trouble shooting.
* Click on possible issues for explanations and countermeasures.
Typical Problems
Typical Causes

Seat Leak

Foreign materials stacked on the sealing face of the valve seat.

Damage and deformation on the sealing face of the valve seat.

Erosion on the sealing face of the valve seat.

Crack(s) on the sealing face of the valve seat.

Bonnet ,
Flange Leak

Fastening failures of joint bolts and nuts.

Loosening of the seal ring fastening mechanism.

Damage on the nut seat face.

Crevice corrosion on the flange gasket surface.

Deformation and cracking on the seal ring surface.

Gland Leak

Uneven tightening of gland bolts.

Surface pressure due to inadequately tightened gland packing.

Deterioration of gland packing.

Defect on stem.

Crack on neck bush.

Malfunction

Excessive tightening torque for gland packing.

Wear, damage and poor grease lubrication of the drive component.

Defective screws in stem and stem bush.

Wear and corrosion on the guide part of the gate valve body.

Post and prior leaks in the safety valve.
* For issues in motor operated valves with unclear causes, more information can be found in
"AVD (Ampere-Voltage Diagnostic Systems)"
.

Preventive Maintenance
We provide various preventive maintenance to decrease losses which could be caused due to low performance and other issues.
Overhaul (Periodic Inspection)

Reduction of Exposure
We strive to reduce radiation exposure of workers during the valve maintenance.
We are also able to put not only valves, but valve parts, contaminated jigs and waste materials through chemical decontamination.

Increase knowledge regarding valves
Technical Training Center
We have a practical skills training room which simulates the environment of the actual site, and also a lecture training room is available for use. Various skills training programs are available for workers according to their abilities.