Special Maintenance List
Stem Bush Wear Measurement
As for valves which open and close at a high frequency, abrasion may occur on stem bush screws when there is a lack of lubricating oil, increasing the risk of malfunction in the motor operated valve.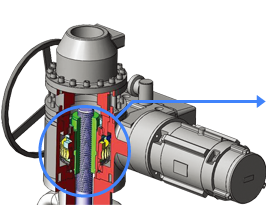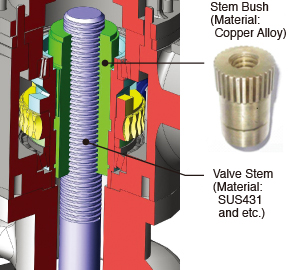 Wear face is separated by fluid lubrication film. (Healthy Condition)
Lack of lubricating oil causes an absence of oil film, resulting in wear on the internal thread. The internal thread becomes deformed due to the progress of wear.

Wear condition check without disassembling.
Measurement method
1.
Install various sensors.
2.
Open and close the valve and measure the electric signals from each sensor (vibration, stroke, etc.).
3.
Wear level of the stem is calculated with the diagnostic system using the measured value.
Scope
Different Types of Motor Operated Valves
* Measurement of valves manufactured by other companies is also available.
Work Period
About 2 -3 hours per valve (Standard Time)
* Wear measurement for stem bushes is also available in [AVD].
No disassembling
necessary!
Short time measurement! Low cost compared to disassembling.
Wear condition is confirmed. , Thus, appropriate replacement time can be found.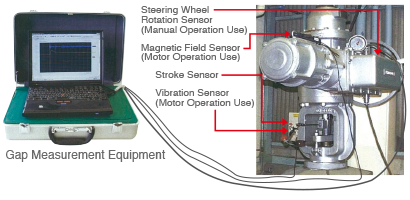 Stem Bush Wear Measurement Equipment.